Custom Engineered Blower Packages by ACFM
Our fully equipped manufacturing facility and engineering team can help you custom a system to meet the demands of your application. Call us today and speak to a sales representative for more information.

Pre-Engineered ROOTSTM EasyAir® X2 Blower Package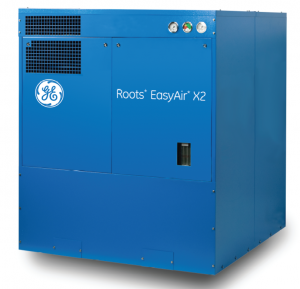 The EasyAir® X2 system provides performance engineering in a standard package. It is produced for vacuum or pressure applications, enabling simple, on-site installation, and low ownership cost.
Features:
The inlet filter is accessible through key lock panels for easy removal and ample access to equipment
Inlet room air routes from the front of the package and exhaust air routes to the rear of the package near the discharge connection
No electric fan hookup required as the fan is mounted on the blower shaft and driven mechanically resulting in longer life
Patented automatic belt tension system optimizes performance and extends belt life
Panel-mounted gauges (inlet filter differential, blower exhaust temperature and pressure) and external oil level view for easy monitoring
Up to 22dBA free field noise attenuation with enclosure
Integrated forklift access at front of package
Standard pipe size for available connections